For those looking to install cup holders in your rails, here's a quick description of how I do mine. One minor problem you sometimes get is if the cup holder is sitting directly on the vinyl/foam, the area around the cup holder will indent and the cup will sink into the rail a little. My solution to this was to install rings at each cup holder location, so that the cup is sitting on a solid piece of wood instead of the foam, and thus you don't get that indentation around the cup.
Lay out and cut your cup holders holes out of the rail. Using some of the left over ¾" plywood scraps (the corner cut-off scraps work good), I cut wood rings with an inner diameter matching the cup holder holes in the rail, and an outer diameter about
1.25"
1/2" wider (so the ring is about
5/8"
1/4" thick). You can either cut the rings with a router and circle jig or a combination of hole saws – I typically use a router for everything. Now glue the rings down to the top of the wood rail:
Edit: since originally making this thread, I've refined the process so the rings are only 1/4" thick now, which fully supports the cup but doesn't extent out beyond the rim of the cup holder:
I believe the ring on right is the one I went with: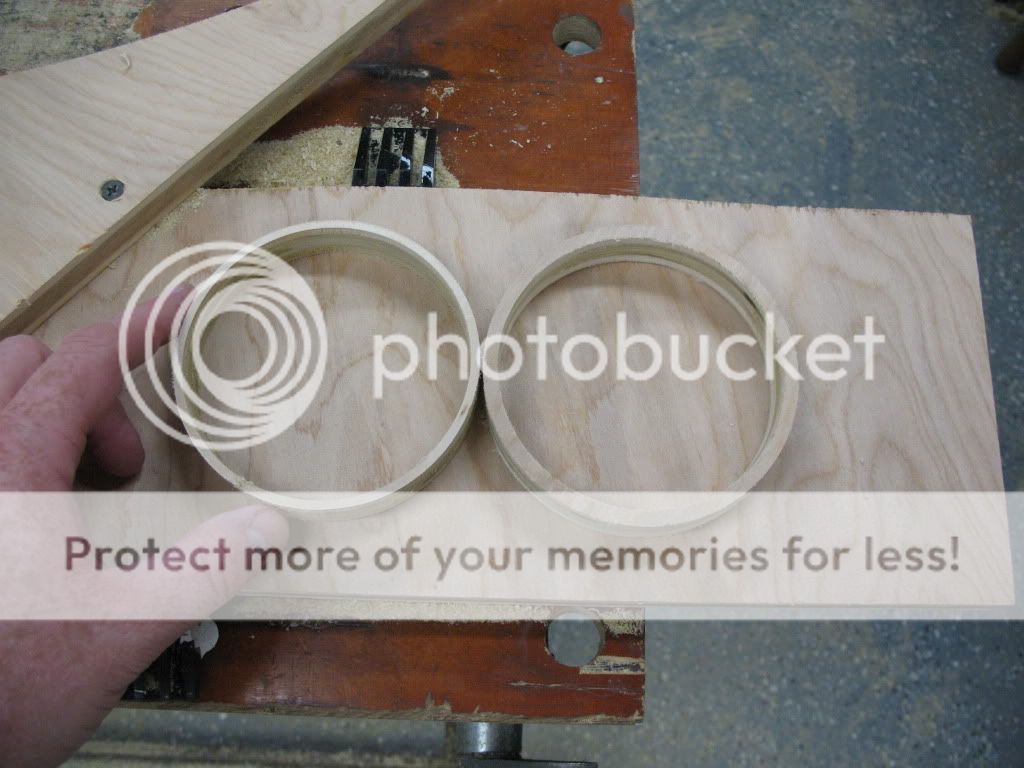 Then glue your 1" HD foam to the top of the rail & cut out the cup holder holes in the foam from underneath:
The foam will be sitting on top of the rings, so you have to stretch the foam around the ring so it's nice and snug. This way you won't have any gaps in the foam around the ring.
(Note this obviously wasn't the actual rail, it was a mock-up I did with some old Jo-Ann's foam to check what size rings would be good, but it's the same concept)
This way the cup holders are sitting on something solid (the ring), versus sitting on the foam. Now you cover your rail with vinyl like you would normally do. Once you've finished, carefully cut an X over the cup holder hole in the vinyl and staple the vinyl to the inside of the cup holder hole/ring. Note you don't want to make the X cut too big, as the vinyl may tear. Sometimes you'll need a few extra slits to get the vinyl stapled in without any wrinkles - this can frustrating as it's far from an exact science and is pretty time consuming. Rinse and repeat for each cup holder.
Final results: