Im very excited as I have recieved my order from Gene at ABC Gifts and Awards of 350 Nevada jack skulls and 50 custom Orange $5000 Nevada jack Saloon chips. Also got 10 $25,000 skull plaques. Purchased during the black friday weekend sale!
First off I want to say I am stoked over these chips. I have 450 NJ skulls .25-$25 for a cash game set already, but I wanted a starter set of $100-5000/25,000 tourney set chips. My original cash game set are very slick chips and dont stack very well. 20 high and they will come down with the lightest nudge of the table. The new tourney chips are stacking like bricks! Super solid with no slipping at all. I love them! Had em over 50 high and stood up like champs. Could go much higher!
My plan is by spring, I will be ordering a few more high custom denomination saloons of 100,000, 125,000 and 250,000 for bigger tourney play. For now these will do. Heres a few crappy cell phone photos until I get better ones:
Sexy $5000 orange custom Denom Saloon!!!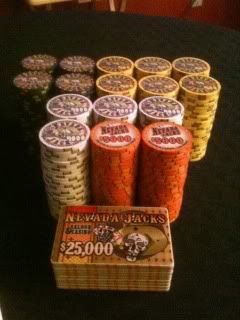 A shot of the original cash set.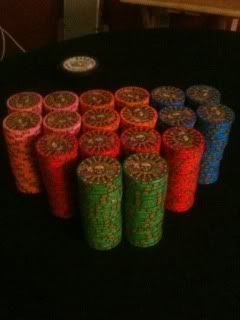 My KEM gold and Black Jumbo arrow poker cards of choice.
I know the 5000 doesnt match so to speak, but I love it. The saloon is a very nice chip and I will be getting more really soon.
Thank you Gene! I am a very satisfied new customer of yours!