Minor update to my PMC blog: I got in about two full days of work during the break and the bathroom got a lot of finish work.
A section of ceiling using the CeilingLink product and a run of 2x2s to accomodate the dropped plumbing lines...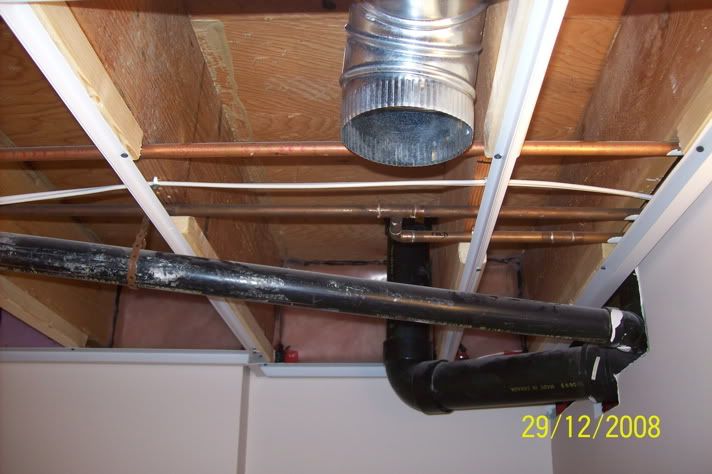 The same section all closed up...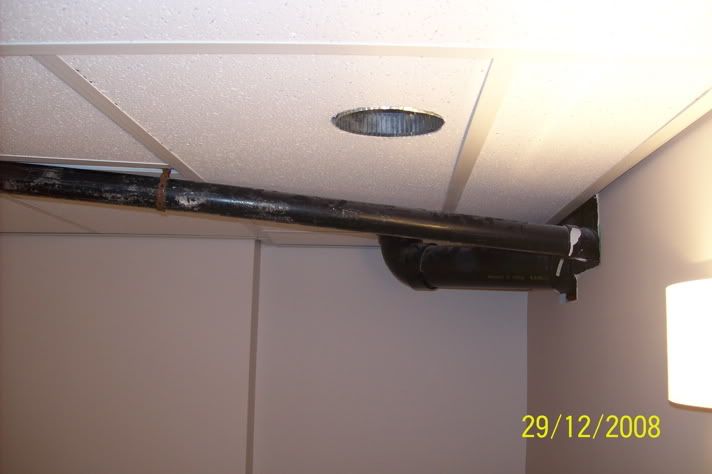 The exposed drain stack and finished ceiling...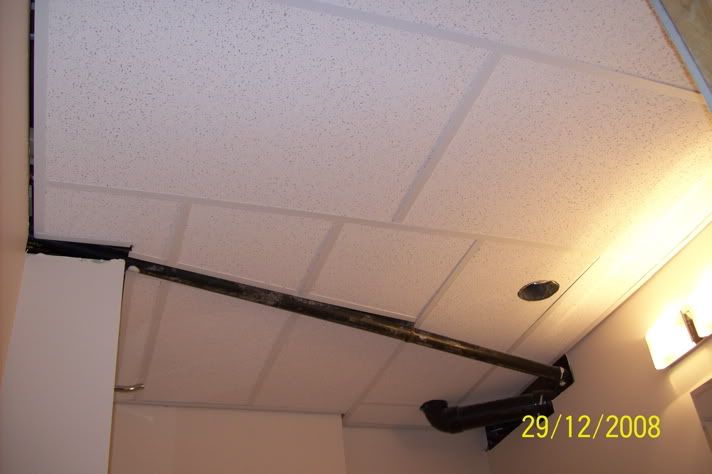 The same stack primed and painted...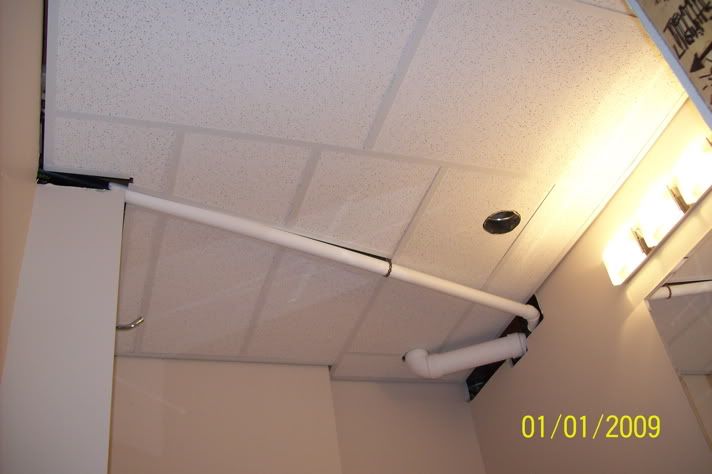 Barkerboard to cover the stack collection area and trim applied behind the ceiling...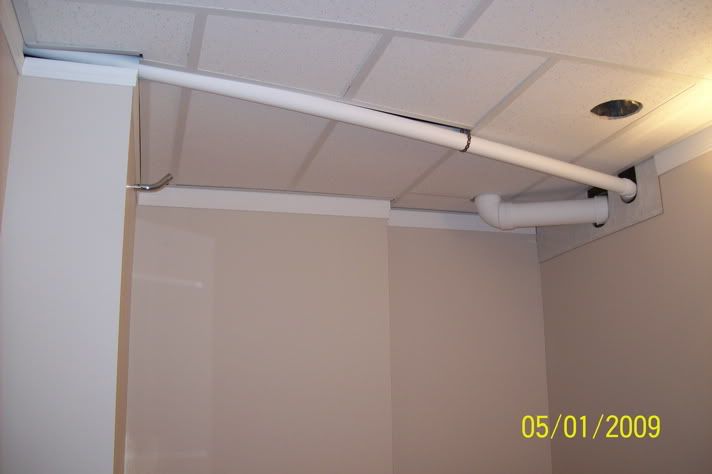 And the other side of the bathroom which was far less interesting (read: difficult) to work on...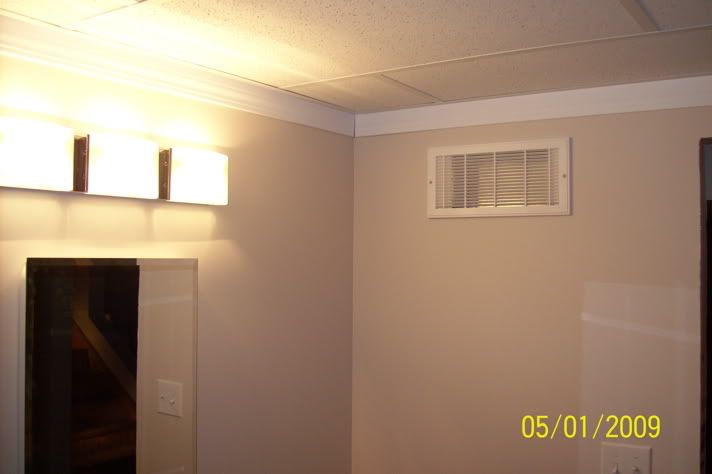 The shower goes in next.
...
Highly recommend using CeilingLink as a suspended ceiling if you need to maximize your space. It attaches to the floor joists above and only drops 1" overall.
ref.
http://ceilinglink.com/
Installation is first attaching the Ts to the ceiling joists then snapping an 8' track (upside-down T) into place on one side, another 8' track on the other, then sliding in a tile and a cross-brace and another tile. Repeat.
With objects in the way (duct vents, lighting), there's a bit of pause involved: zip things together up to the point of obstruction, cut your cross Ts and ceiling tile to fit and when happy, hold tile in place and zip together. Continue with obstruction-free tile installation, as above. Note: one side may already be done so you're only "unzipped" on the side you're adding to.
To access stuff, you just have to find a seam and unzip the track. Get help to hold tiles or pull track because it will fall on your head when you're not paying attention.
Here you can see I've finished the center run which had the most light interruptions and the first right-side run (much easier) and am starting the joist-attached Ts further right still.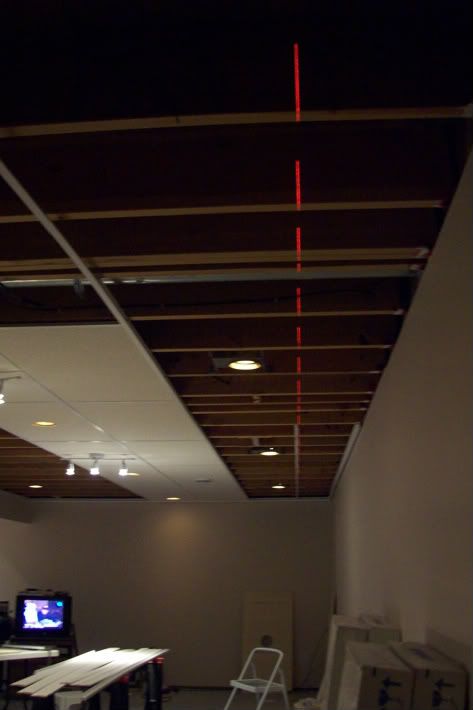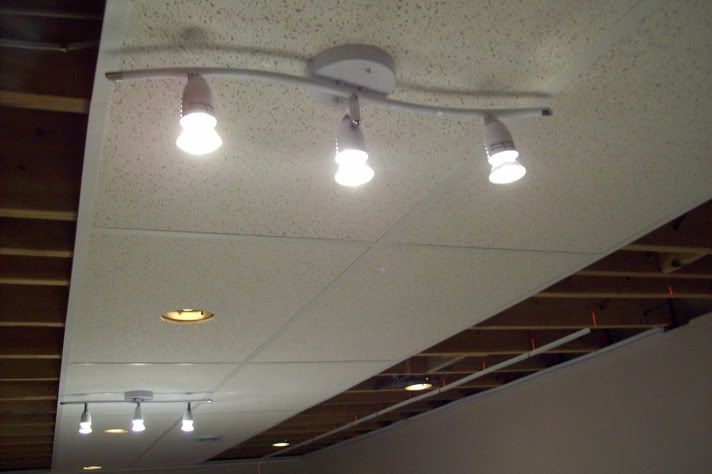 Don't get ahead of yourself: doing all the joist-attachment first may introduce errors you won't find until you place tiles. One row at a time.
Tools I used include tape measure, L-square, pencil, compass (for circle scribing), knife (for straight scribing), and hacksaw blade (great for cutting circles). Math is your friend.
Not shown is the most important: an anvil cutter for the Ceiling Link product itself. I tried an anvil pruner but it didn't have the leverage to finish cuts right. Find something that countersinks. Mine is a Loewe and the cutting "deck" had a slot so the blade could really do it's work.
Ref.
Loewe Scheren | Anvil Cutters, with standard replaceable trapezoidal blade
...
The ceiling in the basement is fully independent of the floating walls so it uses their C-channel along the perimeter and a piece of trim fitted behind to give it some finish. You can see the trim applied in the bath pics above and near the end of this thread..